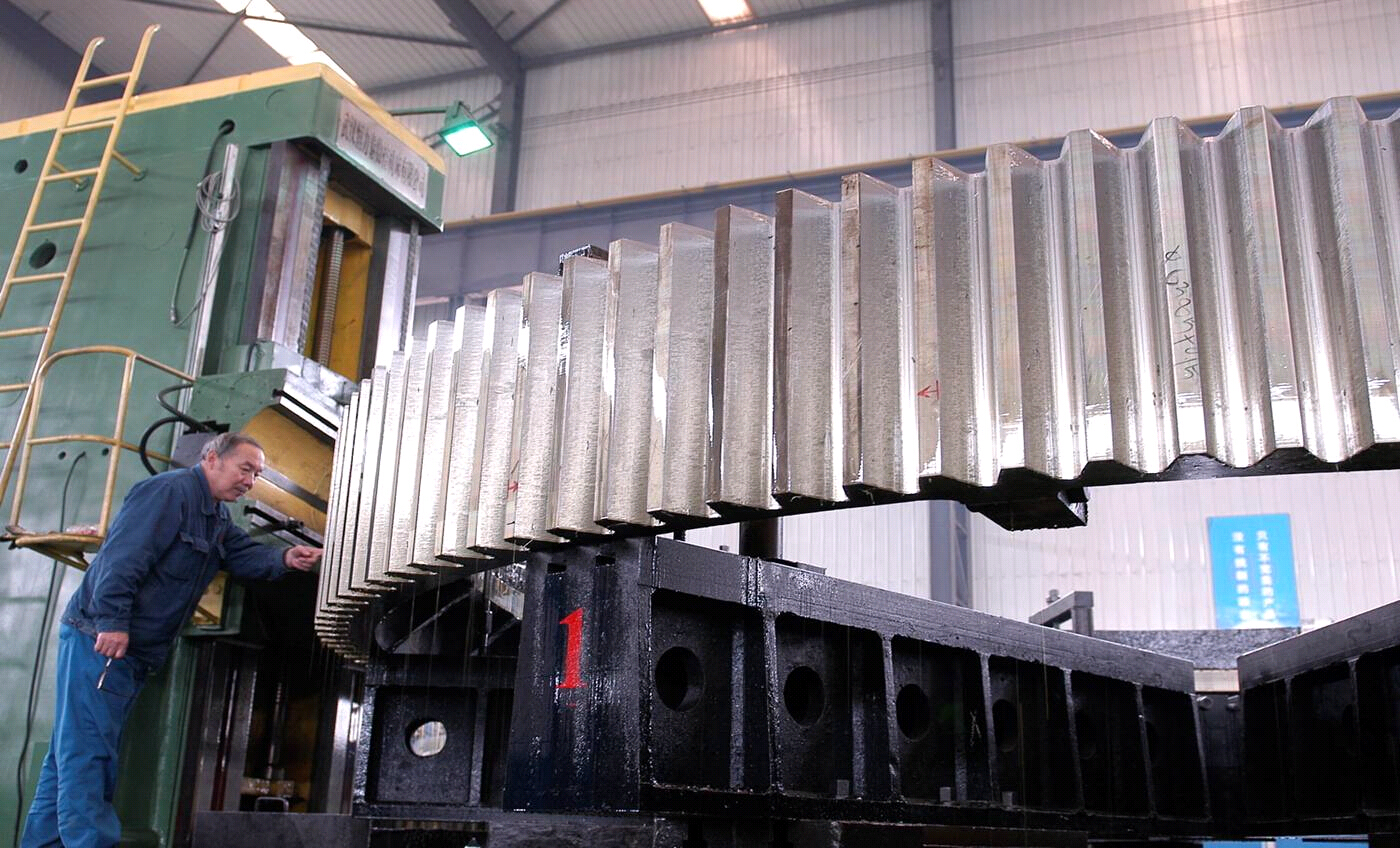 Recently, the large girth with maximum rolling cut module was manufactured on a 15m heavy CNC hobbing machine by our company.
The girth is made for localization re-engineering of Japanese-made mixer, The outer circle diameter is 6390mm, the tooth width is 660mm, the tooth number is 140, the thickness of each teeth is 70mm. The hobbing module of the girth is 45mm, which is the first time in China. Prior to this, the maximum rolling cut gear modulus in China was 42mm. After finished and test, the tooth shape, the tooth direction, the accumulated error of the circumferential pitch and the roughness of the tooth surface all meet the technical requirements of the drawing.
The maximum rolling cut modulus of 15m heavy CNC hobbing machine is 40mm, but this girth is beyond nominal range. In order to ensure the quality of the products, our company ordered the hob with the precision Class-A , the module 45mm, the hob is the only one in China so far.
Because the girth has large modulus and the tooth depth reaches 103.25mm, there would be a severe deformation on the combined surface, and the processing is very difficult. After repeated analysis and research, we made a scientific and reasonable processing and manufacturing process and took the generation method to process it by triple tooth punching and twice hobbing with milling cutters respectively in modulus of 28mm, 36mm, 40mm, 45mm, and all the parameters meet the technical standards. In addition, the original hardness is given at HB185-207 in Japanese drawing, in order to improve lifespan, the hardness was increased to HB230 by thermal refining after coarse hobbing, which greatly ensures mechanical property of the product and highly confirmed and praised by our users.
The manufacturing success of the large module has laid a good foundation for the company to expand the production area and increase the new economic growth point.